Description
The 3in1 Cavitation RF Machine combines the different functions in one machine, cavitation and RF handle for body slimming and the skin tightens, also use for facial skin lifting and rejuvenation.
WHAT IS THE 3IN1 CAVITATION RF MACHINE?
The 3in1 cavitation RF machines are a non-invasive and painless alternative to liposuction. They use high-frequency heat and sound waves to penetrate your skin and break down fat cells. Then, the liquefied fat cells are naturally excreted by the liver through the lymphatic system.
THE BENEFITS OF 3IN1 CAVITATION RF MACHINE
Face: Lift facial contour, remove wrinkle, improve skin elasticity.
Eyes Around: Lift eyes sagging & contour/remove eyebag dark circles.
Neck: Remove neck wrinkle, lift & tighten neck shape and contour.
Arm: Tighten arms, remove bat wings arms, promotes metabolism.
Waist: Burn fat cells, remove fat belly, turn to a thin waist.
Buttock: Lift buttock contour and elasticity, create perfect buttock.
Thigh: Remove thigh fat, improve dark skin, tighten thigh.
– Dissolve fat, lymphatic drainage, enhance blood circulation
– Fat reduction and body remodeling
– Firm skin, enhance skin elasticity
– Firm eye skin, smooth eye wrinkle, fade eye black circle
– Shrink pores, tighten loose skin
– Promote metabolism, enhances the luminosity of the skin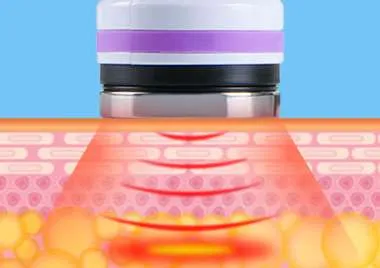 Cavitation 2.0
Cavitation 2.0 provides a new approach that can help customers to get satisfying results without having to bear the noise & ringing in the ears as well as increased power output and overall improved performance and durability.
The cavitation procedure releases powerful ultrasonic waves, which quickly vibrate fat cells, and produce countless vacuum air pockets in and out of cells, mightily impacting the fatty cells. This then will break the fat cell membrane, and dissolve the triglyceride to be the glycerin and free fatty acid. The glycerin and free fatty acid will then be removed with your daily metabolism process.
RF Radio Frequency Facial
A radiofrequency facial is a non-invasive treatment that uses heat energy to create a controlled injury to your skin, which, in turn, prompts collagen and elastin production—the two key proteins responsible for skin firmness, tightness, and smoothness.
How Many Treatment Are Recommended?
We recommend at least 3-5 days must be allowed between treatments in the same area.
Many people asked me if only one part of the body can be treated each day? No, not only one part of the body can be treated to get rid of fat, you can treat your belly, waist, arm, thigh at the same time.
Remember to drink about 1-liter water within 1 hour before RF Unoiestion Cavitation 2.0 treatment to help the liquid fat out of the body.
How Long Is Each Treatment?
It will take 30 to 60 minutes for each part of the body treatment, But it is not the same treatment time, the treatment time depends on the treatment, the area to be covered, and the amount of work required for non-surgical inch loss and body contour treatment.
Specification
Power supply Input:100V-240V
Power:190W

Ultrasonic 40K Cavitation Handle
Frequency:40KHz
Power:20W

Sextupolar 3D RF Handle for Body
Freqeuncy:1MHz
Power:50W

Three pole 3D RF Handle for face
Freqeuncy:1MHz
Power:30W

Input Power: AC 110V/220V 50/60Hz
Display: Touch Screen
Package Listing
1 x 40KHz Ultrasonic Cavitation Handle
1 x Three pole RF Handle for Face and Eyes' Around
1 x Multipolar RF Handle for Body
1 x Power cord Power Supply Cord( Both 110v and 220v voltage (frequency: 50/60Hz) version are available. Also we stock the USA, UK, AU, EU plug to suit for the country all over the world.)