Description
Are you having trouble losing those extra few pounds and need an easy-to-use cavitation machine to speed up your weight loss? Our ultrasonic cavitation machine uses powerful 2.0 cavitation technology which precisely targets fat tissues without causing any harm to your blood vessels, nerves, or tissues.
The Technology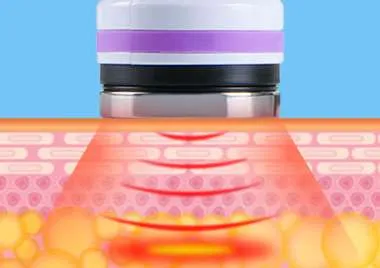 Cavitation 2.0
Cavitation 2.0 provides a new approach that can help customers to get satisfying results without having to bear the noise & ringing in the ears as well as increased power output and overall improved performance and durability.
The cavitation procedure releases powerful ultrasonic waves, which quickly vibrate fat cells, and produce countless vacuum air pockets in and out of cells, mightily impacting the fatty cells. This then will break the fat cell membrane, and dissolve the triglyceride to be the glycerin and free fatty acid. The glycerin and free fatty acid will then be removed with your daily metabolism process.
RF Radio Frequency Facial
A radiofrequency facial is a non-invasive treatment that uses heat energy to create a controlled injury to your skin, which, in turn, prompts collagen and elastin production—the two key proteins responsible for skin firmness, tightness, and smoothness.
Threepole RF for Eyes
Radio waves get past the outer skin layers and deliver heat energy to the muscles and tissues beneath. Helps tighten skin, fade under-eye bags, boost blood circulation, reduce vascular dark circles and eye edema. Fade dark circles & eye bags in 14 days.
Quadrupolar 3D RF for Face
Radio waves get past the outer skin layers and deliver heat energy to the muscles and tissues beneath. It stimulates collagen regeneration at hypodermic under 55 Degree C and increases skin elasticity and fades wrinkles. Fade wrinkles by 67% in 28 days.
Videos
How does Cavitation 2.0 Work?
This type of therapy targets and destroys subcutaneous fat cells in the fat cell membranes through a series of microscopic implosions. Once the fat cell membrane (adipose tissue) is destroyed, the fat is discharged between the cells where they are turned into protein and then changed to free fatty acids and glycerol. Free fatty acids are moved to the liver where they decay and are removed from the body while water-soluble glycerol is transported to the circulatory system and used as energy.

With a collective strong sound wave head, Cavitation strong sound wave of 40000HZ may be emitted to vibrate fat cells at top speed and produce numerous vacuum air pockets inside and outside the fat cells, robustly impacting fat cells to generate introverted blast and disintegrate triglyceride into glycerol and free fatty acids. Then RF waves at a frequency of 1MHZ are used for exhausting the integrated glycerol and free fatty acids. Finally, vacuum RF and energy electrodes are used for positioning and tightening fat. In physics, it is known as "cavitation". Micropore introverted blast inside and outside cells may lead to enhanced molecular motion and a higher energy level and this will finally cause fat cell rupture and there to achieve the effects of bodybuilding and losing weight.

Firming the arms, legs, thighs, buttocks, waist, back, abdominal muscles and reshape the body figure Improve and treat the orange peel-like fatty tissues of different serious levels With the effects of soothing, decompression, and pain relief (such as joint pain, sciatica), promote the regular mechanical aerobic exercise of skin tissue, rapidly relieve stress and remove fatigue. Firming, lifting, and compacting the skin and molding the face shape circulates and activates cells, promoting metabolism and so that 100% more collagen and elastic fibers may be gained for improving the facial and body skin.

Applicable range: Full body shaping, eliminate cellulite tissue, dissolve fatness, weight loss, skin lifting, wrinkle removal, skin tightening, enhance skin elasticity

What is Radio Frequency?
The radiofrequency emitter is pressed up against the skin. These radio waves get past the outer skin layers and deliver heat energy to the muscles and tissues beneath. The heat helps to contract these layers and build up collagen levels. The overall result tightens up the outer layers of skin and reduces wrinkling effects. Since there's a lot of heat involved, some cooling must be applied to the skin at the same time. A Three Pole facial lifting provides satisfying aesthetic results with less risk of side effects compared to a traditional facelift.
Packaging List
1 x Main Machine
1 x 40KHz Ultrasonic Cavitation Handle
1 x Three pole RF Handle for Face and Eyes' Around
1 x Quadrupole RF Handle for Face and Body
1 x Power cord Power Supply Cord